Camila Feijoo
Content marketer by vocation, producer by passion. Full of music facts, tech hacks, and movie references. Camila is a communications enthusiast who has had the opportunity to build her career on the foundations of valuable international experiences. She's fluent in Spanglish, and she struggles to keep her eyes open in pictures.

Camila considers herself a foodie by nature. She believes that the best way to get to know a culture is through its food. She always cries while chopping onions; and just like Julia Child, Camila agrees that "with enough butter, anything is good."

She starts her days with a cold brew coffee and she doesn't like to talk about herself in the third person.
All Articles
---
How To Make Pancakes From Scratch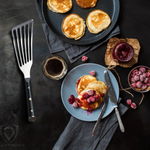 Pancakes are a breakfast staple that's enjoyed around the world, in both savory and sweet varieties and they're also my favorite breakfast so, I'm definitely biased. They're also surprisingly simple to make, pancakes made from scratch require only a handful of simple ingredients that you can put together in minutes.
11 Mins
How To Cut Potatoes Into Fries | 5 Easy Steps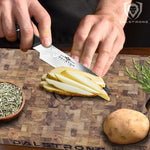 In this blog post, we'll learn different methods of how to cut potatoes into fries, some pro tips on making homemade french fries like a chef, and some Dalstrong products that can help you along the way. 
8 Mins
About Dalstrong
Professional kitchens are hidden spaces filled with passion, rage, pain, euphoria, and innovation that few people ever see. There's a fire that burns within chefs, pitmasters, and line cooks as they try to keep pace with relentless demand, always pushing themselves and each other for greatness.